Stories Published on January 24th, 2012 | by Seán Ward
0
Bentley's New Cambridge Dealership Opens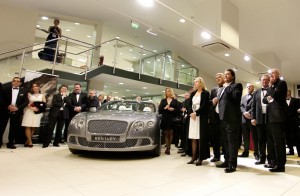 Over 200 people attended the opening of Bentley's new showroom in Cambridge last night, getting a preview of the new Bentley Continental GT V8.
The dealership, owned by Vindis Group, welcomed senior executives from Bentley's headquarters and motoring enthusiasts and journalists from across the region.
Alongside the GT V8 was the new W12 GTC, both of which go on sale this year.
The showroom can house 10 new and used Bentleys, and has a workshop space for Bentley repairs and services.
Like the new Aston Martin garage launched in Shanghai last week, the garage has a hospitality area and lounge, allowing customers to choose their car's specification in relative comfort, considering they're spending nearly £150k.
Geoff Dowding, Bentley's Regional Director for the United Kingdom, said it was a fantastic evening and that the garage would undoubtedly be a success: "As well as producing a memorable evening to celebrate the launch of Bentley Cambridge, we would like to congratulate Stephen and his colleagues at the Vindis Group for all the hard work that they have put in the previous months.
"The showroom looks superb and matches the same standards of luxury and attention to detail our cars are also renowned for."
[portfolio_slideshow]