Geneva Motor Show 2012 Published on March 9th, 2012 | by Seán Ward
0
Bentley's Thirsty SUV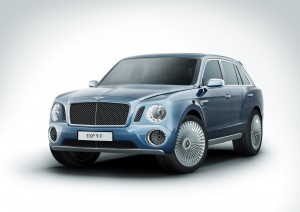 Bentley has unveiled what looks to be one of the most luxurious, but also thirsty, SUV's ever made at the 2012 Geneva show.
Called the 'EXP 9 F', Bentley won't say yet whether it'll be made (Customer and public reaction will be analysed following the unveiling of EXP 9 F at Geneva 2012, with the aim of refining the concept further. Above all, Bentley will be listening carefully to the reaction of customers and potential customers throughout the world, prior to making any definitive commitment to production), but if it is, prices will probably stand just below £100k.
Perhaps one of the biggest issues Bentley faces is how to market the EXP effectively, as it doesn't really fit into what many believe to be a 'proper Bentley', but Wolfgang Dürheimer, Chairman of Bentley Motors, said: "We are very excited by the potential of a high performance, ultra-luxury Bentley SUV.
"We know that many Bentley customers already own SUVs, admiring their style, luxury, performance and versatility. With EXP 9 F, Bentley is making a clear statement of intent that we have both the expertise and desire to meet and exceed their expectations.
"A Bentley Grand Tourer doesn't necessarily have to be a coupé, a convertible or a saloon – it could equally well be an SUV. What's important is that it should be true to Bentley's brand values and in line with the desires and needs of our customers," added Alasdair Stewart, Member of the Board, Sales and Marketing.
Oddly, engineers have opted for the larger 6.0 litre W12 engine rather than the new 4.4 litre V8 seen in the newly launched Continental GT V8.
If you're still wondering whether the EXP is the real deal, you need look no further than Bentley's official release text: 'The EXP 9 F seating is 4+1, with a rear armrest lifting to reveal a cooled compartment for champagne and glasses.' Only Bentley.
[portfolio_slideshow]