Stories Published on January 24th, 2012 | by Seán Ward
0
Big Wing Corvette ZR1 Triple X by TIKT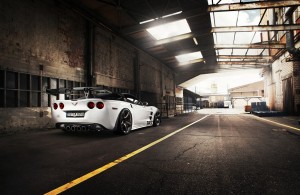 The latest creation from German tuner TIKT is a Corvette ZR1 – which was hardly lacking on the power front – which produces more power than a Pagani Zonda R.
Yes, the plastic (now carbon fibre) ZR1 Triple X has 758 horsepower and 910 Nm, an increase of 120 bhp and 90 Nm of torque over the 'normal' and very dull 6.2 litre supercharged V8 engine.
0-60 mph takes less than 3 seconds if you can stop the wheels spinning wildly, and the top speed, if you remove the big wing, is likely to be around 230 mph.
Obviously, the new power has been teemed with new brakes, a new exhaust and cooling system, new suspension and high performance tyres to stop you climbing trees, lowering the ride height by 50 mm.
Aesthetic upgrades include a new front bumper, revised side skirts, Zerra Ultralight Evo 2 alloy wheels, and the very obvious carbon fibre rear wing.
[portfolio_slideshow]