Stories Published on August 24th, 2011 | by Seán Ward
0
Block Battles with Germany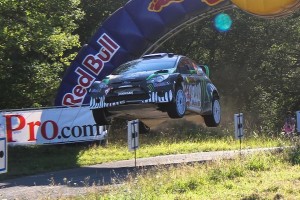 Ken Block and Alex Gelsomino faced a series of problems in day two of the German stage of the World Rally Championship.
They had already had a bad first day, but were determined to do better in the second day, and to start with, everything went well, but the Block suffered a tyre puncture at Stage 10, costing him 4 minutes by the finish.
"Today was another frustrating day for me here in Germany," said Block, talking to the media. "I'm still building my confidence with the Fiesta's tarmac setup.
"I did have one awesome highlight to my day though. There's this great jump on stage 14 called Gina, which I hit going flat out. I ended up going 52 meters, which was the farthest distance of the day. So, I'm really stoked about that!"
This is only Ken Block's sixth tarmac rally, but thanks to Gymkhana 4, we think he'll be ok.
[portfolio_slideshow]