First Car – Have I Had One?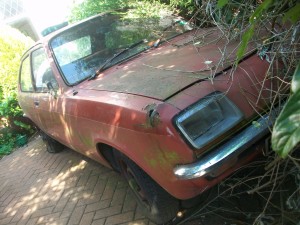 Just a few months before my 17th birthday I realised the enormity of what was about to happen: I was about to enter the year in which I could drive a real car out on the open road, pass my test, buy a car of my own, and embark on road trips all over the country, just because I could.
However, a quick look at insurance quotes on a fifteen year-old Daihatsu, worth £250 and with an impressive 900cc engine under the bonnet revealed that, unless I could find £4,000 for a policy, I wouldn't be driving anything anywhere for a few years.
Insurance, it seems, has always been my barrier to owning a car, hence why I still haven't actually gone out and bought one. Or have I?
Shortly after my 17th birthday I said to my mother that I would give her a one pence piece for the Vauxhall Chevette on the drive way.
Looking up the insurance, I realised that I wouldn't be driving this anytime soon either, as based on the one-penny valuation on the Chevette, the insurance was 60,000 times what the vehicle was worth.
I still haven't had a 'first car drive', where you pull off the 'L' plates and take to the road on your own for the first time. The first time I drove on my own was in a Toyota Prius Plug-In on its launch in Surrey, and the first car I had 'as mine' was a Peugeot 107 which, again, was a press loan but this time for a week.
So is the Chevette my first car? Rusty and fitted with a 'SORN' notice, if it is, I've got some work to do.
This was written as part of MoneySupermarket's 'First Car Stories' campaign. Want to try it yourself? Hurry, the deadline is midnight tonight!