Sponsored Video – Free Tropical Holiday
Sponsored by TomTom.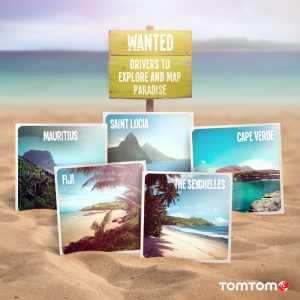 Not every day do you get an offer to be flown out to tropical islands for two weeks, to test TomTom satnavs and map the island as you drive around.
Sounds intriguing doesn't it? Well, it gets better, because not only is it all free, but you get paid 10,000 euros.
In fact, it sounds better than intriguing. It sounds positively ridiculous and completely amazing!
TomTom launched its Map Paradise Project at the start of June, and so far one lucky family has won the trip to a tropical island, and another is being chosen for the second tropical paradise. Now, they're on the hunt for the third group to travel (for free, remember) to Mauritius.
Watch the video to find out more!
TomTom say that they are "looking for people who would enjoy visiting rainforests, banana and coconut plantations, who don't mind great weather and who have a decent sense of direction".
They also say that the "mapping field work will take anything from a day to two weeks depending on how much time is spent sunbathing, swimming or exploring".
"The Map Paradise Project has got off to a great start," said TomTom's managing director, Corinne Vigreux.
"We had thousands of applications to map the first island of Fiji. It will be a very difficult job choosing the winners and we would like to say a big thank you to everyone who has entered.
If you're interested, visit the Map Maradise site.