New Citroen C1 or Peugeot 107?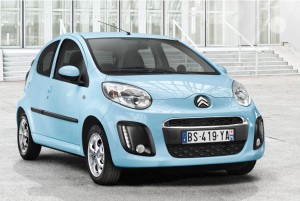 The latest generation Citroen C1 has been unveiled after seven years of Toyota, Peugeot and Citroen working together to create the 107, Aygo and the aforementioned C1.
But which is better to buy? The Peugeot 107, also recently unveiled in its latest form, or this C1?
Both cars will go on sale in February, both have LED daytime running lights and both have three trim levels.
Both are very economical, too, capable of 65.69 mpg.
But, since 2005 when both of these cars were launched, the Peugeot has been sold to well over 100,000 customers, whereas the C1 has been sold to 80,000 customers.
A sign of the quality? I doubt it very much – if anything, the new C1 is the more exclusive car, but also slightly better looking, especially with that 80's bathroom blue exterior paint, although the matte purple finish on the 107 will probably bring a few customers in too.
Both cars will cost about £8,000 in the base spec, and if I were you, I'd take the Citroen.
Click here to read more about the new Peugeot 107.