New Mitsubishi Outlander – First Look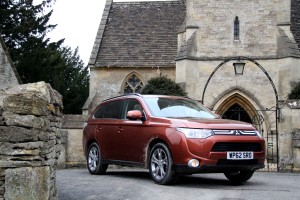 Unfortunately, this is not a story of how I pushed the new Mitsubishi Outlander to the limit, or indeed anywhere the limit. In fact, I didn't get to drive the new Outlander at all.
As a young chap, insurance on road cars is a big, big issue. For example, I have been quoted £4,500 on a 900cc, 15 year old Daihatsu, which just about says it all.
And unfortunately for me, Mitsubishi's insurance policy does not cover anyone under the age of 21, so for the time being all I can do is report to you on the new Outlander as a physical product, rather than as a driving experience.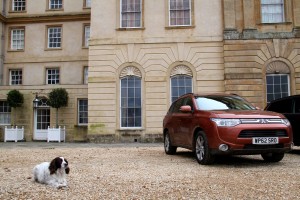 So, first up are the looks. I have to say, in terms of design, Mitsubishi isn't quite there yet. The Mitsubishi range hasn't developed in the same way as, for example, Kia, who five years ago had cars that looked completely different from each other and followed no design direction between them, and yet today all look really rather excellent.
The Outlander doesn't look bad, but it doesn't have any styling features that would really shout out "Buy me!" But, I have to say I like the crease running down the side of the car and the front grille and light assembly; it looks quite menacing on the road, and the interior is clean, functional and well thought out.
Managing Director of Mitsubishi UK Lance Bradley said at the launch "The interior in particular really is a step ahead of any interior that we've had up to this point – If you covered the badge, and said 'what do you think of the new Audi?' people would say 'Yes, it's nice', and that's not necessarily something people would have said about Mitsubishi interiors in the past."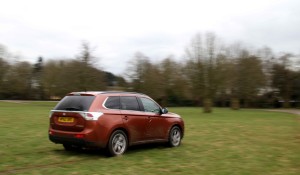 Mechanically I like the Outlander too. It rides out the bumps very well, and as I was being driven by two other journalists who, shall we say, got a bit carried away on a muddy, pot-hole filled road, I discovered firstly that big crevasses in the road are dealt with remarkably well (it still hurts, but the car doesn't seem fazed and just keeps on tracking), and secondly that four wheel drive on a slippery surface certainly helps when you're looking where you're going through the side window…
One minor point you might wish to investigate: the satnav broke and said that the 'Postal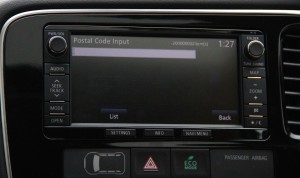 Code Input' was '-200000002 item(s)'. Curious.
What's best about the car? To be honest, I was staggered at the way Mitsubishi have been able to pull so much weight out of the car over the previous version – over 100kg, in fact.
Talking about the weight saving, Bradley said "To get the car to be environmentally responsible isn't just a case of having efficient engines or clever aerodynamics – there are lots of things that go towards making a car as good as it is from an environmental point of view.
"One of those is weight reduction. We've worked really hard to make this car as light as possible. It's 200kg lighter than the Honda CR-V, 135 kg lighter than the Nissan X-Trail, and 374kg lighter than the Hyundai Santa Fe. That's the equivalent of four fat blokes lighter!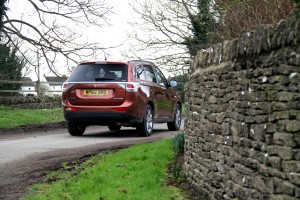 "It also weighs less than a BMW 1 Series. The 1 Series is thought of as a small car, but actually our seven-seat, four wheel drive SUV weighs less. And it weighs less than half as much as an Audi Q7."
Will the new Outlander be a sales success? Well, prices start at £23,699, when similarly sized cars like the Toyota Land Cruiser and Audi Q7 cost £32,745 and £43,395 respectively. We'll just have to wait and see.
[portfolio_slideshow]