So far, so good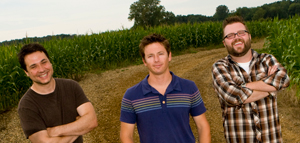 It's been an interesting 18 months, if I'm brutally honest.
Gordon Brown has replaced by two men who are obviously antiques dealers with a questionably close relationship; Sir Stirling Moss has said he will be retiring after more than 60 years of racing; Sebastian Vettel has won two Formula One titles, becoming the youngest double world champion in F1 history.
But for me, it's been interesting for other reasons, because 18 months ago, I wasn't doing a great deal. Yes, I was working hard on various things, but I had no real idea of where I was going.
But Top Gear, that rather wonderful motoring programme, changed that. After years of watching the famous trio on the box, I decided I wanted a piece of the action.
So, I went out and got serious about writing.
Like I said, it's been interesting; not only do I have the brilliant opportunity to write for newspapers, but this little website is rather an interesting little venture too.
The Top Gear track has become like a second home, and Ferraris and Aston Martins have almost become a normal sight.
It's all jolly fantastic, so looking forward, what do we need?
Well, 'Features' will be introduced – after all, motoring news isn't the only thing people want to see.
And this blog* will run alongside the main site, so I can give my thoughts on the world of motoring.
But to business. As this is a new blog, it is only fitting I look at the latest addition to British television, Top Gear USA.
Motoring fans all over the world had rather mixed opinions about the idea of a new TG – some said it was a good idea to capitalise on the success of the UK version, and to show the world what America has to say about the modern motor. But others were adamant it was going to be a failure, saying that no one could replace the antics of May, Hammond and Clarkson.
To be brutally honest, looking at it for the first time on BBC4 the other day, I wasn't all that impressed.
The audience laughter seemed engineered and cut down, like the editors were pushed for time; The music seemed altogether too shouty, too American; the minicams in the cars were wobbling about like they'd been mounted on jelly.
Worst of all was the interview, because when Buzz Aldrin, the second man to set foot on the moon, sits down to talk about his career and life, you want to hear more than thirty seconds of talking. I found it simply staggering that they managed to make an interview with Buzz four minutes long.
But I watched it again and realised one of its main problems was actually me – I was the one looking at the format and thinking 'It's not like Top Gear on the BBC'.
After the second viewing, it dawned on me it was quite a good programme, and one which I will certainly watch again.
*Darren, thank you for making me realise newmotoring was in serious need of an editorial blog. Muchos thankos.