The AMG Bug Has Bitten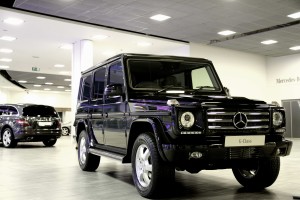 AMG. If you're familiar with YouTube, you'll know that AMG is a division of Mercedes that's responsible for some of the best engines in the world (like those installed in the SLS Black, the 1986 AMG Hammer, and the Pagani Huayra), and can also have its engine sales directly correlated to the sale of Pirellis and Michelins, and the number of medical cases where people are treated for having small melted rubber particulates in their lungs.
You'll also know that the AMG brand has grown considerably over the past few years, breathing on almost every new model of Mercedes over the last decade. Even the new A Class and possibly the up- and-coming CLA could have unhinged AMG variants.
Now, being the age that I am, I'd never really thought that I would ever be able to get behind the wheel of an AMG product, but one cold, damp January afternoon that all changed.
I headed to a track at Mercedes Benz World at Brooklands, and while I wouldn't be driving anything on the famous banking, it was none the less exciting to be near what many consider to be the birth place of British motorsport.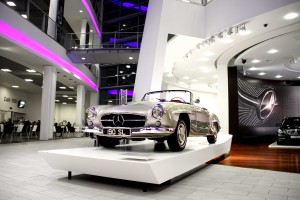 Mercedes Benz World, and I really do mean this, is one if the most interesting car 'museum' type locations I've ever been too, because spread across several floors are hundreds of cars, ranging from Le Mans warriors, to F1 legends, to modern road cars, to priceless classics. Even in the lobby is one of the most beautiful, and probably priceless, 1957 Mercedes SL Roadsters in the world.
But what makes it better is that you can get down to some driving, and after a few coffees and some wonderful mashed potato, I headed outside.
As well as the track is the off road course, designed to test almost every aspect of an off road cars capability, whether it be climbing pebbledashed hills or wading through several feet or mud and icy sludge.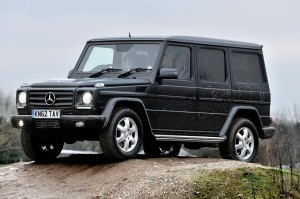 My weapon of choice for this section was the Mercedes G350, partly because I know from the internet that they are indestructible, but mostly because, ever since I saw a G55 AMG way back in 2005, it's been sitting on my all time favourite car list.
Lo and behold, the G Wagon was completely undramatic, a truly staggering machine that I wish, dearly, I could own, but having looked at the price for this diesel car (£82,970 without any options) I can't help but think that I might have to wait a while until I buy it.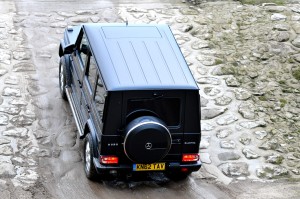 But for such a capable off-roader, the interior is brilliant – all the important buttons are big and chunky, and yet everything is set into a wonderful carbon fibre/shiny plastic dash, and with the menacing matt black paint on the outside of mine, it looked epic. It's just a shame that the slightly more expensive (£123,140) G63 wasn't to hand.
Speaking of '63', let's move back to the main event: the ML63 AMG.
At the beginning of the day, I'd had no idea that the 63 version would be there. Instead, I thought I would be having a quick drive in the new £50k ML350 with the new suspension set up that is designed to both reduce roll and increase comfort, comfort being one of the ML's main features.
The car was a very good drive, and it certainly didn't roll as much as I'd expected it too, but knowing that there was a 63 parked at the side of the track, despite the 350's surprising turn of speed on the one long straight, I couldn't stop thinking about the 'other' car.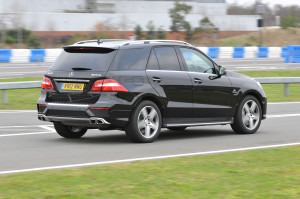 Once I'd finished, unfortunately, we had to leave the section of the track I had just learned and move to a smaller circuit. With this I saw two problems: Firstly, a faster car on a smaller circuit didn't sound like it would end well, especially as the 63 was on winter tyres; and secondly, this was my very first AMG experience, and I felt like some extra room would be comforting.
Anyway, enough chit chat. The car was epic.
In my mind, it's classic AMG, both in terms of the engine and performance, and the general character.
The engine is a nutter – a 5.5 litre, twin-turbo V8 with 525 bhp at 5,250rpm and seven hundred Newton Meters (516 lb/ft) of torque between 1,750rpm and 5,500rpm.
What's more interesting is that when you read figures like 0-60 mph in 4.8 seconds you can normally guess what a car will feel like, but when you add more than 2,000 kg into the mix it's a little a bit trickier to think about.
I stood on the accelerator with a slight feeling of trepidation, wondering if the front end would rear up into the air as the back of the car squatted, and then if I tried to balance the throttle in the corners the car would roll over and I would be killed.
Thankfully, and rather remarkably, none of that happened. It just ploughed on, accelerating and braking in ways that I thought would be completely impossible. It was outrageous.
And what of the car's character? It really is "AMG – business as usual". Buying an ML is an interesting choice anyway, but deciding on getting a 63 in this country is hilarious and daft, exactly like the car.
Getting out, I wondered when I would next get that AMG feel, and as it turned out there was a space at the end of the day for the 63 again, so I frantically scribbled my name down to have one more go.
To conclude, I find it fascinating that in a world where power is sneered at by some (although that'll change over the years as more 'hyper-greens' come out like the new Enzo, McLaren P1 and Porsche 918) AMG still makes lunatic cars for people who like driving and need a bit of excitement in their lives.
I also love how Mercedes has transformed the G-Wagon, a 70's military beast, into a simply evil looking car with a smashing interior, miles away from what any army would have seen.
Writing this now I feel ill, as I know that, unless Mercedes decides to let me drive another AMG car before I'm 25, my track experience will have to see me through the next six years. But I also feel ill because I've caught something: the AMG bug. If you get it, don't fight it. It'll win.
It has the power.
Seán Ward - Friday 11th January 2013
[portfolio_slideshow]