Two of the Best as a Gift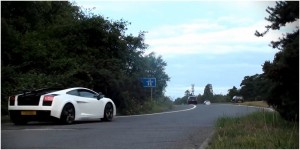 It is Christmas Eve and although I've spent the evening with my family, and acting in a nativity play (being twice the height and three times the age of the other participants is never a good thing), I am now at home preparing for bed with a hot mug of coco and some writing.
But this is not just any writing. This is M&S writing – the finest 'Taste the Difference' stuff.
That's a big and probably incorrect claim, but hay-ho, it's Christmas. Or should that be ho-ho? Never mind.
I thought that on this crisp evening I would give you, the reader, a gift. That gift is two excellent videos.
Made by that internet fellow Shmee150, or Tim as he is known by his Doctor, it show a convoy of many, many, many supercars leaving for Wilton House a few months ago.
Yes, you may have seen them, but if you haven't then you must have been living in a cave, or a house without internet connectivity.
You may recognise the Lamborghini Gallardo SE at the 20 second mark in the second video, and you may recognise a few other cars there too, but if you don't, please do not panic.
Just watch. And listen.