Stories Published on July 22nd, 2012 | by Seán Ward
0
BMW Art Cars come to London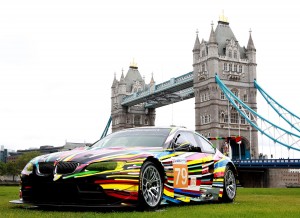 The world famous BMW art cars are descending on London this weekend at the NCP car park on Great Eastern Street in Shoreditch.
But how did it begin? The year was 1975, and French racing driver Hervé Poulain invited an artist friend Alexander Calder simply to paint a BMW.
So what started as a bit of paint dribbled over a BMW has turned into a massive collection of art cars, with an interesting selection of artists behind it – even Andy Worhol has done one.
Ruth Mackenzie, Director of London 2012 Festival, one of the partners responsible for the exhibition, said: "London has never seen these astonishing cars, and this free event will be a highlight of our festival."