Frankfurt 2011 Published on September 18th, 2011 | by Seán Ward
0
BMW at Frankfurt 2011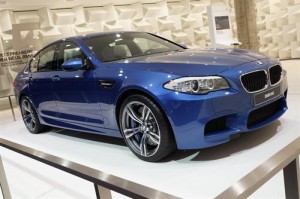 BMW has unveiled several new cars at this year's Frankfurt Motor Show, as well as giving some previously launched cars some time on the BMW stand.
First to be unveiled were the i3 and i8 concepts, BMW's answer to sustainable motoring of the future.
The i3 is supposed to be the environmentally friendly city car of the future, whereas the i8 is designed to be the sports car of the future, aiming to persuade sceptics that it is possible to enjoy motoring and be 'green' at the same time.
The second generation of 1 Series was also unveiled in the flesh for the first time. Aimed as a competitor for cars like the VW Golf and Ford Focus, although it is considerably more expensive, it is the only car in that part of the market that offers rear wheel drive.
BMW's performance 'M' division showcased the next M5. Unlike the previous M5, it has a 4.4 litre V8 engine, producing 560 hp and 502 ft/lb (681 Nm) of torque. It is also 25% more economical that its predecessor.
Sowing the world that diesels are still good fun, BMW uncovered the new 520d EfficientDynamics Edition, which features a twin turbocharged engine, a new and more efficient start-stop system, and the usual, sporty rear wheel drive layout.
Next up at Frankfurt was the BMW X1 sDrive20d EfficientDynamics Edition, a much more efficient variant of the already very popular BMW X1.
Finally, the coupé and convertible 6 series cars were launched, as well as a new twin turbo Z4.
[portfolio_slideshow]