Stories Published on September 17th, 2012 | by James Allen
0
BMW confirmed as De Tomaso's potential new owner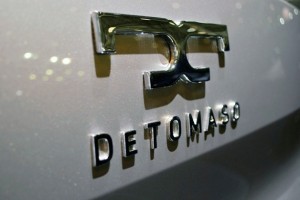 The Italian government has, as of late, been trying to find a buyer of the defunct brand De Tomaso's assets, and reports have indicated an unlikely bidder is in the running for the deeds to the company: BMW.
In a report by global news agency Reuters, Giuseppe Anfuso - the Turin Secretary of the UILM trade union – announced that Italian "partners" and BMW were in talks with regards to buying De Tomaso. The full statement is below:
"We had confirmation that talks with possible Italian partners (who would buy the structural assets) and with BMW continue."
This comes as quite a shock to the motoring world, as BMW has repeatedly denied having any interest in the company which went bankrupt earlier this year.
Various rumours and speculative comments have emerged in light of this announcement, with the most prominent being that BMW was inspired by the success of Lamborghini under Volkswagen and Audi stewardship, and wanting to emulate that with De Tomaso.
When you look at it, though, it does stat to make a bit of sense: after all, De Tomaso's most famous product was the mid-engined Pantera supercar, which has the potential to be a Gallardo or even an Aventador rival if done properly (which, when you look at what the Bavarian firm has done with the MINI and Rolls-Royce brands, does show that BMW knows how to capture the essence of a brand and make it relevant in the modern world).
BMW is also reportedly working on its own successor to the BMW M1, so the two projects could be linked together, as Audi and Lamborghini have done with the R8 and Gallardo respectively.
There are, of course, a few problems if BMW does end up acquiring De Tomaso, with the major issue being the Italian company's obscurity in the 21st Century, especially when compared with other supercar manufacturers.
There are exceptions to this rule, of course – you need only look at what VW has done with Bugatti to realise it's possible to turn an extinct company into a household name – but the odds are heavily against a revived De Tomaso being a prosperous one.
Of course, this isn't set in stone, as the Italian Government won't be auctioning off the De Tomaso brand and everything that comes with it until sometime in mid-October. As such, it'll be a while before we find out exactly how far BMW's involvement in the process will go in potentially reviving the brand – if you read into Giuseppe Anfuso's words, the Italian "partners" seem to be more interested in the bankrupt company's assets than De Tomaso as a whole.
That said, the prospect of seeing De Tomaso brought back by a company that's had a track record of turning dead companies into profitable business ventures is very exciting, and it'll be very interesting to see who does end up with the deeds to De Tomaso this time next month.
[portfolio_slideshow]