Stories Published on January 27th, 2012 | by Seán Ward
0
BMW M Diesel Range Launched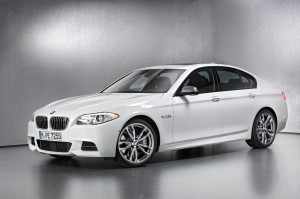 The rumours are not so, the spy pictures were not photoshopped – BMW has today launched a new selection of fast cars, the M Performance Automobiles.
They're not, as we had expected, diesel M5's, M3's etc., but instead high power diesel sports cars that are supposed to be fuel efficient, and yet perfectly capable of whipping you up a mountain road, or more likely past a caravan, should the need arise.
Four models are available: the BMW M550d xDrive Sedan, BMW M550d xDrive Touring, BMW X5 M50d, and BMW X6 M50d.
Essentially, they all have the same engine: 3 litre, tri-turbocharged six-cylinder engines, producing 381 bhp and 546 lb/ft of torque.
The M50d's are a little slower than the M550d's; the X5 M50d does the 0-60 mph sprint in 5.4 seconds, and the X6 M50d in 5.3 seconds, whereas the M550d sedan does it in 4.7 seconds, and the Touring in 4.9 seconds.
As usual, the top speeds are limited to 155 mph across the board.
Efficiency ranges from around 36 mpg to 44, the X6 M50d being the worst with 36.7 mpg, and the best being the M550d sedan with an impressive 44.8 mpg figure.
But perhaps the figure that baffles the mind the most is the fact that this diesel motor can produce 127 bhp per litre, a figure that is impressive in a Ferrari, let alone a diesel. Although watch out, as the power is likely to be dumped in one big lump when the three turbos kick in.
M Division has tuned all of the suspension systems, chassis, gearboxes and other systems to be as performance orientated as a road going diesel can be, with things like air suspension, 20 inch wheels and eight speed automatic gearboxes thrown in too.
Whether the M Diesels will make it to the UK is unknown, but we really do hope so.
[portfolio_slideshow]