Concepts Published on September 15th, 2012 | by James Allen
0
BMW previews front-wheel drive Concept Active Tourer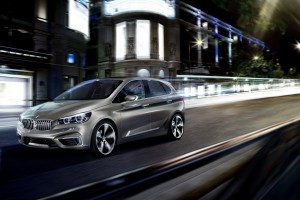 BMW is set to release a range of front-wheel drive cars in 2014, and the Bavarian motor manufacturer is hinting at what they'll look like with its new Concept Active Tourer design study.
Similar in size to the Mercedes-Benz B-Class – which hints at what the production car it may spawn will compete against – the 'CAT' uses the same platform that'll not only underpin what critics are expecting to be called the '1 Series GT', but also the next generation of Mini products, in particular the upcoming Cooper hatchback.
The said platform, known as 'UKL1′ by its makers, will be available in two different sizes (one for the Mini, another for the larger, 1 Series-sized BMWs) and can accommodate front-wheel drive and, as the plug-in hybrid setup in the CAT suggests, all-wheel drive drivetrains.
It is, however, debatable at this moment in time whether the 1.5 petrol/electric motor AWD system will be available in the eventual production car, and almost certainly not from when the car goes on sale in late 2013 – it's more likely that the new range of efficient petrol and diesel engines will be ready for the car's launch.
With the car being predominantly engineered for a front-wheel drive configuration, though, BMW has had to drastically change its design language inside and out to cater to/make the most of the new packaging requirements. For instance, the characteristically long bonnets that have characterised BMWs for decades is now no more on the Active Tourer, and the architecture inside is markedly different from that of the 1 Series, the current car this new concept resembles the most.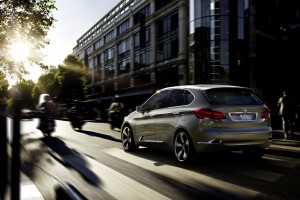 It's not just mechanical drivetrains and a potential radical shake-up in Beemer's design language that the concept hints at, though, as quite a few features have been previewed in the car, with the most intriguing being what BMW's calling the 'Cool Shade' panoramic sunroof.
Quite similar to the 'Magic Sky' system used by Mercedes-Benz on its SL grand tourer as an optional extra, the roof is comprised of two panes of glass that sandwich a particle film between them, which can be used to alter the opacity of the roof, thus increasing or reducing the amount of light that enters the cabin.
It remains to be seen just yet as to how the production-ready version of the Concept Active Tourer will emerge in road legal form, or indeed if front-wheel drive can be successfully implemented into the mostly rear-wheel drive realms of BMW. That said, if this new platform it previews is good enough for the next-gen Mini, it certainly bodes well for upholding the 'Ultimate Driving Machine' marketing slogan.
[portfolio_slideshow]