Stories Published on January 24th, 2012 | by Seán Ward
0
Bright New Veyron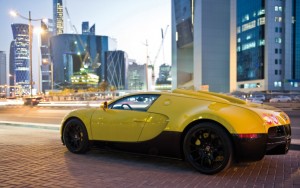 The latest in Veyron customisation sees an actual Veyron (not 'configure' job) in the most interesting of colours for a Veyron: yellow.
Bugatti will be showcasing the car at the 2012 Qatar Motor Show, demonstrating that Bugatti's technical excellence doesn't mean a customer is limited in their choice of colour and trim because it doesn't 'fit in' with a company's principles.
The yellow paint is teamed with naked carbon fibre on the outside, and on the inside it's more or less the same story, although some parts are made of contrasting black Bugatti leather.
And, as you may have noticed, it's a Grand Sport (the 105th of 150, you may be interested to know), a more exclusive Veyron, if you can have such a thing, so it costs over $2 million.
[portfolio_slideshow]