Stories Published on October 11th, 2011 | by Seán Ward
1
Britain's First Hydrogen Fuel Station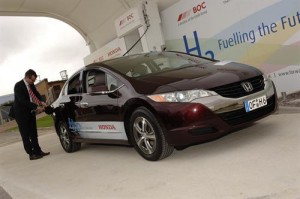 The first hydrogen fuel station in Britain has finally opened.
The station, in Swindon, Wiltshire, opened to signify a move forward in British motoring, was opened at Honda's South Marston factory.
Although there are few hydrogen vehicles on the roads today, Honda believes that Hydrogen is the way forward, seeing as the only thing to come out of the exhaust is water.
Open to any motorists who have completed a BOC safety training course, the station can give hydrogen cars fuel for a further 270 miles before the need for another stop.
Robert Evans, CEO of the Centre of Excellence for Low carbon and fuel cell technologies (Cenex), speaking with Andrew English of the Telegraph, said that "This is about low carbon mobility", and that he is looking forward to seeing more hydrogen stations in the future.
In recent years, Honda has become the main company promoting the future of hydrogen vehicles with the Clarity, and all hydrogen powered vehicle, moving away from companies like Toyota whose emphasis is on hybrid technology.