Stories Published on March 19th, 2012 | by Seán Ward
0
BRZ Production Begins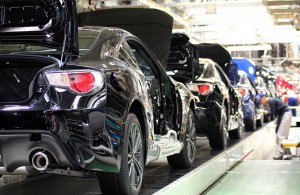 Production has started for the New Subaru BRZ and Toyota GT86 models.
The occasion was marked by a small ceremony at Subaru's Gunma factory in Ota City, Japan, for two of the most eagerly anticipated cars of 2012.
Subaru's boss said: "This car symbolises our corporate strategy in two significant aspects: good progress in our alliance and advancement of our 'select and focus' approach.
The start of production today made a huge step for us, but it is not our end goal. By constantly refining both models, FHI and TMC hope to nourish each model to be loved by customers all over the world for a long time to come."
Akio Toyoda, President of Toyota Motor Corporation, added The Subaru BRZ and Toyota 86 could not have been successfully developed without collaboration between FHI and TMC. We started the alliance for mutual growth in 2005. Now I'm delighted to see that our alliance bore fruit."
With any luck, more powerful variants will be developed and launched in the coming years, as well as a racing version to compete in various races such as the Le Mans 24 Hours.