New Cars Published on June 25th, 2013 | by Seán Ward
0
Buy a Viper Racer for £298k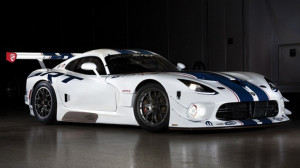 Two SRT Vipers had a difficult Le Mans over the weekend, coming in 8th and 9th in the GTE Pro class, losing bodywork here and there, and getting hit by other cars a fair bit too. But they were at least mechanically bulletproof, which is all the more reason why buying the new SRT GT3-R would be a very good, and fun, idea.
Priced at £298, it looks more or less the same as the GTS-R, the factory race car that competed at Le Mans and drives in the American Le Mans Series, but under the bonnet is a more powerful 8.3 litre V10, as the GT3 doesn't have the same restrictions as the Le Mans car: 680 bhp and 640 lb/ft of torque to be precise.
Weighing in at 1295kg, it's very light for a Viper, and made almost entirely of carbon fibre, and so extreme is the weight loss that SRT lists paint ABS, and cockpit air conditioning as "Major Optional Equipment Options".
Braking performance comes from massive 380mm front disks and 330mm rear disks, and as well as a massive 110 litre fuel tank, owners can enjoy a near perfect 49:51 weight distribution.
But the best bit about the GT3-R is that, out of the box, it can race in any GT3 spec race series, including FIA GT3, the Pirelli World Challenge GT, NARRA, SCCA/NASA, ADAC GT Cup…
SRT (not Dodge) will start deliveries from September.