Stories Published on June 16th, 2012 | by Seán Ward
0
Camaro Comes to Europe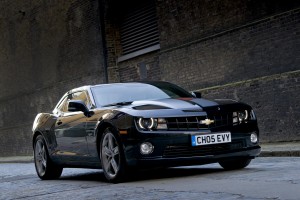 Chevrolet has announced that the Camaro is returning to Europe this summer, priced at £35,025 for the coupé and £40,025 for the soft top.
While the new Camaro shape has been seen on European roads thanks wholly to imports, Chevrolet has finally decided to offer the car in Europe. "Now it's back, better and mightier than ever and ready to reclaim its place of honour on European roads. And bedroom walls," says Chevrolet.
Also, Chevrolet say that the European Chevrolet is "similar in content to the 2SS model offered in North America", but has new suspension designed for the European market only (quite a lot of the car's components were set up at the Nürburgring), new dampers, and a different chassis.
"Our objective was to create a more precise sport suspension with greater road-handling capability," says Al Oppenheiser, Camaro Chief Engineer. "We applied lessons learned from extensive track testing to better the suspension geometry for flatter cornering, a more neutral balance during hard turns and minimised understeer at the limit."
Luckily, however, it has the same American 6.2 litre V8 engine, with 432 bhp and 419 lb/ft of torque. 0-60 mph takes 5.2 seconds (5.4 seconds for the convertible) and the top speed is 155 mph.
An automatic gearbox option is available, but this comes with only 405 bhp and 410 lb/ft of torque. 0-60 mph takes 5.4 seconds (this time 5.6 for the convertible), but the top speed is the same as the manual car, at 155 mph.
"The Camaro is an ensemble of power, comfort and technology, offering great value for money that cannot be matched by our competitors," says Susan Docherty, President and Managing Director, Chevrolet Europe.
For those interested in fuel efficiency, the automatic can get 21 mpg, the manual 20 mpg.
[portfolio_slideshow]