Chris Evan's Carfest 2012 Published on April 19th, 2012 | by Seán Ward
2
Carfest North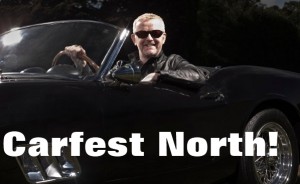 Chris Evans announced on his Radio 2 breakfast show this morning that, because of the almost instant sale of all 20,000 Carfest tickets on Tuesday, a new event known as Carfest North will be launched.
Chris and his team only have one week to organise the festival, but he has said that for those who live in the north and bought tickets for the now renamed Carfest South, you will be able to trade your tickets in.
Within the next week another 20,000 tickets will go on sale for Carfest North, and some tickets for Carfest South will be made available.
Many of the bands and cars at the southern event will be taking a long drive up to the location of Carfest North, a location which has yet to be decided.
A lot of organisation for Chris, but at least more people will sniff the cars, eat the food and listen to the bands.
Watch Noah introduce Carfest South.