Stories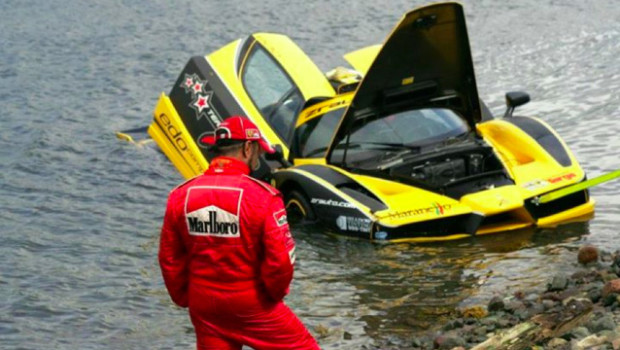 Published on October 7th, 2013 | by Seán Ward
0
Carrera GT, Enzo, F1, XJ220 – How Many Crashed?
Four cars are at the front of automotive media right now: the Porsche 918 Spyder, Ferrari LaFerrari, McLaren P1 and the Jaguar C-X75.
While there are other faster, more accelerative, apparently more exotic, and lower volume cars in production at the moment (the Bugatti Veyron and Pagani Huayra spring to mind), these four cars are getting attention because they point to future technologies more than any others at the supercar end of the market.
Although the Jaguar still won't be built. Damn it, Jag.
But with new technology, bigger price tags, more power and higher top speeds, you can't help but wonder how many potential buyers have talent levels to match their wallet size.
With that, it seems fitting to look back at these four car's predecessors – all built at different times – and see how many of them ended up in fields. The four in question are the Porsche Carrera GT, Ferrari Enzo, McLaren F1, and the Jaguar XJ220.
Porsche Carrera GT
First up is the Carrera GT. A total of 1,270 were built between 2004 and 2007, at a cost of more than £300,000 per car.
Exact numbers for this sort of thing are difficult to come by, but roughly 80-90 cars have been crashed and photographed, with another 10 or so believed to have been crashed and kept away from the snappers.
Ferrari Enzo
Like the Carrera GT, exact numbers are difficult to find, but it's believed 70 Enzos have been crashed, with about 80% written off completely, as most accidents in Enzos are at quite high speeds…
One of the most infamous examples of an Enzo crashing is that of the modified Enzo 'ZXX' owned by tuning company ZR Auto, putting out roughly 840bhp, which ended up sliding into the sea during the Targa Newfoundland back in 2011.
McLaren F1
If you think of the phrase 'McLaren F1 crash' you more than likely think of Rowan Atkinson and his two rather public off-road excursions, which many believe have resulted in insurance premium hikes of £30,000 for the F1 because there simply aren't enough parts in the world.
A total of nine McLaren F1s are believed to have been crashed out of the 107 cars built between 1992 and '98, four of which were totalled completely.
Jaguar XJ220
Last but by no means least is the Jaguar XJ220. The spiritual father to the C-X75, 272 were made between 1992 and '94, of which only seven are believed to have been crashed.