Stories Published on May 12th, 2012 | by Seán Ward
0
Carroll Shelby Dies Aged 89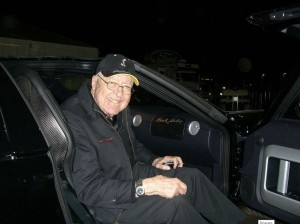 Carroll Shelby, a man famous for being at the forefront of the American muscle car scene, died on Thursday aged 89 in Baylor Hospital, Dallas.
Born in Texas, USA, January 1923, his interest in cars began when he was at high school, and continued to grow until he finally started to race cars professionally in the early 1950s, racing for teams like Maserati and Aston Martin, with whom he won Le Mans 24 in 1959.
Known as the 'Flying Sergeant', his racing also took him to compete in rounds of the 1958 and 1959 Formula 1 championships.
In 1960 he opened Shelby-American, a performance driving school, but quickly turned his attention to modifying and rebuilding cars, the first of which he sold in the USA was the AC Cobra, also known as the Shelby Cobra.
Shelby continued car development and modifications, working with manufacturers such as Ford to create the Shelby GT500, as well as AC and Dodge.
The Shelby name is still used by Ford to this day to denote the most powerful and most extreme muscle cars.
Carroll also set up the Carroll Shelby Foundation which provides medical assistance for children and education for the disadvantaged.
His death was announced by Carroll Shelby International.
Joe Conway, president of Carroll Shelby International , said "We are all deeply saddened, and feel a tremendous sense of loss for Carroll's family, ourselves and the entire automotive industry.
"There has been no one like Carroll Shelby and never will be. However, we promised Carroll we would carry on, and he put the team, the products and the vision in place to do just that."
"Carroll was a visionary who never stopped seeking ways to build faster, better cars," said John Luft, board member of Shelby International.
"He was actively involved in each of the models we build today, the development of our parts business and each of the cars scheduled to be introduced over the next few years. Carroll Shelby was the ultimate competitor and his spirit will continue to guide our company."
A tribute on CarrollShelby.com reads "1923-2012 – The Last American Legend. The race is run, the flag unfurled, the champion now will rest. God speed, Carroll Shelby, we will never forget you."
[portfolio_slideshow]