Le Mans 24 2013 Published on June 3rd, 2013 | by Seán Ward
0
Caterham to Make Le Mans Debut with a Nissan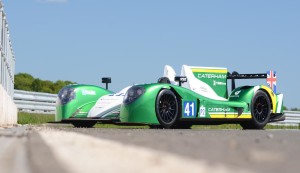 Caterham has announced it will make its Le Mans debut at this year's event later in the month, but not with a Caterham, but instead a Nissan.
Far from being a disappointing piece of news that Caterham can't bring its own car to the event, Caterham has said that this will act as a starting point and allow Caterham to develop a car and it's skills to bring its own car to endurance racing in the future.
#41 Zytek Z11SN-Nissan, part of Greaves Motorsport, runs in the LMP2 class and will have Caterham F1 Reserve Driver Alexander Rossi driving with double LMP2 class-winner Tom Kimber-Smith, and part-time racer Eric Lux.
Mike Gascoyne, Caterham Technology CEO, said "within Caterham Group we have a great deal of experienced personnel with a wide range of technical expertise – from powertrain development to carbon composite design. While there won't be any specification changes we can apply to the car for this year's Le Mans 24 Hours, because the car is homologated for the whole season, we will be looking in more detail at how our various areas of expertise across both Caterham Technology & Innovation and Caterham Composites can be applied to a customer Sports Prototype programme in future."
Le Mans 2013 is the 81st Le Mans event, and starts at 3pm on the afternoon of Saturday 22nd June, and finishes 24 hours later on Sunday the 23rd. The first test session is on Sunday 9th June, with another test and the first qualifying session on Wednesday 19th June.