Stories Published on January 29th, 2012 | by Seán Ward
2
Chevrolet Volt 'Will be In Short Supply'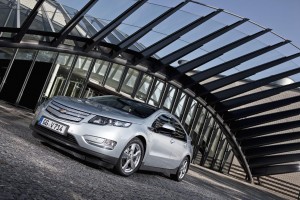 Mark Terry, managing director of Chevrolet UK, has said that they have been contacted by over 2,500 people who are interested in purchasing a new Chevrolet Volt.
The Volt goes on sale this spring, and will have different specifications and pricing to the Vauxhall Ampera.
Terry said that there are some people who "just won't buy a Vauxhall" but want the technology who will turn to Chevrolet.
He is encouraged also by evidence that the famous US brand still has a cachet for UK buyers. "To put a Chevy on your drive is saying something," he said citing evidence that people downsizing from premium brands will chose Chevrolet over South Korean rivals Hyundai and Kia because "they want to go for a brand that says something."
Despite that evidence, Terry admits that the brand still needs some work. "Customers are beginning to understand it but there's still a lot of work to do to show them it's not a US gas guzzler."