Stories Published on February 27th, 2012 | by Seán Ward
0
Cholmondeley Pageant to Celebrate AC Cobra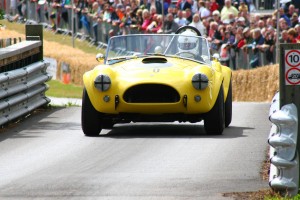 The Cholmondeley Pageant of Power, held between the 15th and 17th of June, will celebrate 50 years of AC Cobra, it has been announced.
A special event called 'Cobras at the Castle' will be held for all the attending Cobras, as well as a special race event known as the 'AC Cobra 50th Anniversary Class', in which one of only three 'Lightweight Cobras' ever built will take part.
James Hall, the event's director, said "The first AC Cobra was sold in 1962 and we are proud to celebrate the anniversary of a world-famous motoring icon.
"This car has earned something of a cult following over the last 50 years, both through its GT racing pedigree and towering on-road presence.  The Cobras will make a thrilling addition to the 2012 Pageant."
The standard Cobras attending all have either the standard 4.2 or 4.7 litre V8 engines, although a few will be taking part that have been modified to accommodate 6.0 litre and even 7.0 litre engines.
Event organisers have said that the celebration is not just because the Cobra is 50 years old, but also because of what it was able to do. Not only did it do well in Le Mans, but it frequently beat competitors like the Ferrari 250 GTO, a car which is seen as much more valuable today.
[portfolio_slideshow]