Chris Evan's Carfest 2012 Published on March 30th, 2012 | by Seán Ward
2
Chris Evan's Carfest Launches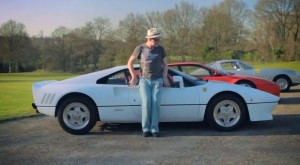 The launching of Chris Evan's 'Carfest' was marked today by the official Carfest website going live at 8 am.
Carfest, a 'car-festival', has been organised by Chris over the 40 days of lent, and is being run in aid of Children in Need 2012.
Chris's cars will make an appearance, as will a few F1 teams and stars, making it a real rival for the dominant Goodwood Festival of Speed, but in many ways Carfest will outshine Goodwood, because although the focus is cars, the festival will also see big name bands in attendance, as well as lots of the country's top chefs as they attempt to decide which is better: the pie or the pasty?
Tickets prices, Chris promises, 'will be as reasonably priced as possible', meaning it will probably cost around a third of the price of a ticket to Goodwood.
Carfest will be held on Saturday 25th and Sunday 26th August.
[portfolio_slideshow]