Video Published on June 14th, 2013 | by Seán Ward
1
Chris Harris Drives the new Porsche GT3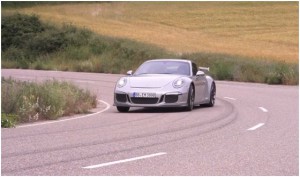 Has the new 991 Porsche GT3 been launched to the press yet? No, and yet somehow Chris Harris has managed not only to drive a development vehicle, but drive it on some closed roads on a sunny day before any other journalist in the world has had a go. Lucky chap.
The new GT3 weighs 35kg more than the previous generation 997 GT3 at 1,430kg, but that's mostly due to the addition of Porsche's PDK double-clutch gearbox (there's no manual gearbox available for the car) and rear-wheel steering, and as Chris explains, it's disappointing that you can't have a manual.
Performance is as follows, and as ridiculous as ever for a GT3: 0-60 mph takes 3.5 seconds, 0-100 mph takes 7.5 seconds, and the top speed is 196 mph (Chris describes it as a "piece of work").
Power comes from a new 3.8 litre flat-six engine that revs to 9,000rpm, and produces 475bhp and 324 lb/ft of torque.
But the best feature, for those who will miss the manual gearbox (and rightly so) is the addition of what Porsche calls the 'Paddle-Neutral De-Clutching Function', whereby drivers can pull both paddles at the same time and "the rear of the vehicle can be consciously destabilised for dynamic leaning into the curve". You can clutch-kick and drift, in other words.
Prices in the UK start at £100,540, and other journalists will probably drive it soon…