Stories Published on September 12th, 2012 | by James Allen
0
Chrysler reveals US prices for new Viper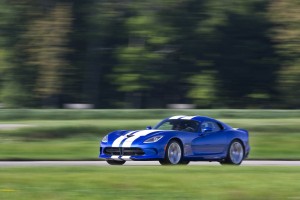 Perfectly timed with all the 'SRT Viper – First Drive' articles and videos floating around the web, Chrysler has just announced the US prices for its new halo performance car, the highly anticipated SRT Viper.
The most basic Viper – which comes in the, to our minds, very confusingly named 'SRT' trim – kicks off the range at $97,395USD, with the mandatory 'destination fee' bumping that right up to a figure just 600 bucks short of $100,000.
That in turn increases to $122,0390USD for the flagship 'GTS' model, which features, among other things to warrant the twenty grand extra, two-mode active suspension components and lightweight 'Venom' alloy wheels.
There's also an optional 'Track Pack', which adds yet even lighter forged aluminium wheels, sticker rubber, uprated brakes and, at 1,496kg, is lighter than the GTS by 26kg. The price for this rather interesting optional extra, though, hasn't been announced as of yet.
Still, Track Pack or not, this is, by a comfortable margin, the most expensive car ever to be built by a brand owned by Chrysler, and certainly puts it out of the reach of some of the income that a few buyers of the previous Viper had at their disposal. That said, at least the folk at SRT can sleep sound at night, knowing their new Viper (albeit the most basic 'SRT' model) is $15,000 cheaper than its arch rival from GM: the Corvette ZR1.
Chrysler hasn't announced any official plans to bring the Viper in right-hand drive configuration to Britain, though the fact it'll always be built in LHD drive means you might end up seeing one in continental Europe.
And, as with the previous Vipers (and, indeed, any American car that wasn't officially sold in the UK), you can import one from the States, but at a steep price: at current exchange rates, it'll set you back at least £63,000 (not including shipping fees or the mandatory taxes), so you'll have to be a die-hard SRT Viper fan for the financial outlay to be worth it for you!
[portfolio_slideshow]