Stories Published on February 17th, 2012 | by Seán Ward
0
Chrysler Ypsilon Black&Red Special Edition Launched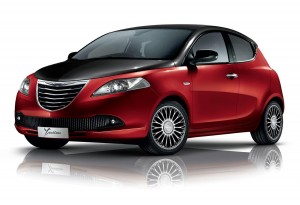 Chrysler has launched a special edition of its new Supermini, named the Ypsilon Black&Red.
Due to go on sale at the end of the month, the new model, the first since Chrysler's reintroduction to the UK, is based heavily upon Fiat's current line-up, and so has the same 0.9-litre TwinAir and 1.2-litre petrol engines, and 1.3-litre MultiJet diesel engine.
The paint is done a bit like a Veyron, with a two tone design: black over the bonnet and roof, red over the side panels and rear end. Inside there's more of the same, with two tone seats and a two tone dashboard.
16-inch multi-spoke alloy wheels, fog lamps and tinted glass are all included as standard.
Nigel Land, brand director, Jeep Chrysler UK said: "We're delighted to be launching this new addition to the popular Ypsilon line-up.
"With additional equipment worth more than £3000 packed into a car that starts from just £12,750, we believe Black&Red will become a valuable member of the Ypsilon family."
Prices start at £12,750 for the 1.2 litre petrol, £13,950 for the 0.9 litre TwinAir, and £14,950 for the 1.3 litre diesel.
[portfolio_slideshow]