The Supercar Event Competition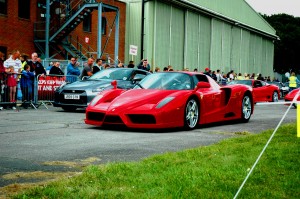 We're giving several lucky people the opportunity to get taken round the Top Gear track in a Ferrari, Lamborghini, Nissan GTR, Pagani, McLaren, Mosler, Bugatti – almost anything!
It's an event called The Supercar Event, and is held on Saturday 23rd and Sunday 24th June 2012.
Essentially, lots of exotic cars (thousands normally) turn up to go on display and give rides round the famous Top Gear track.
All you have to do is 'like' newmotoring on Facebook. Easy. Oh, and it's advisable to enjoy doing more than 150 mph!
One person will win a ticket for every 50 new fans we get, so if we get 100 two people will win, 150 three people, and 200 four people. If we get 1000, then quite a few people will have a very good day indeed.
You can chose which day you want to go, and we will meet you there to talk to you about the day and just have a bit of a natter on car related things.
Tickets normally cost £25 as well as a £10 entry fee, so it's certainly worth entering!
So get started!
By entering you acknowledge you have read the Terms and Conditions.