Geneva Motor Show 2012 Published on February 26th, 2012 | by Seán Ward
0
Convertible Evoque for Geneva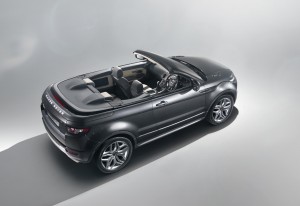 Range Rover has announced that the Evoque Convertible Concept will be unveiled at Geneva, despite there being 'no production plans confirmed'.
So, although it's just a 'design and engineering study' at the moment, if the convertible Evoque does make it to market it will look pretty much identical to the one on display, and come in both two and four door variants.
It features a simple fabric roof (no complicated hard top here), a roll over protection system, and all the usual off road features that sit on the standard Evoque.
Gerry McGovern, Land Rover's Design Director, said "The Evoque lends itself beautifully to the idea of a convertible. This study is not a traditional convertible design execution – instead we have worked with the balance of the Evoque's lines to retain its distinctive shape and create something that is unique and, we believe, highly desirable."
Featuring new 21" Titan silver wheels and the premium Causeway Grey paint, the car looks very glitzy, but the interior stays pretty functional and luxurious, with copious amounts of leather.
"The Evoque Convertible Concept is a new twist to the Evoque", said John Edwards, Land Rover's Global Brand Director.
"It explores the potential to further extend the nameplate's appeal by giving existing customers more choice, whilst at the same time reaching out to a completely new customer base.
"We are excited to see the response to this concept as we assess the potential for building on the Evoque's exceptional success so far."
[portfolio_slideshow]