Stories Published on February 14th, 2012 | by Seán Ward
0
CX-5 to Cost Less Than £22k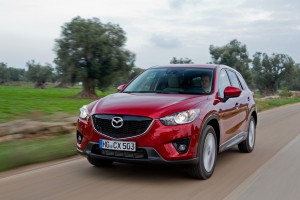 Prices for Mazda's new compact crossover SUV, the CX-5, will start at £21,395 when the car goes on sale in the spring.
Shown for the first time at Frankfurt last year, the CX-5 is the first Mazda to feature SKYACTIV, which uses advanced engine management, six-speed gearboxes and lightweight chassis to both improve efficiency and supposedly heighten driving pleasure.
Mazda sums it up slightly differently, though, saying you get "better economy, lower emissions, enhanced safety and all with an extra helping of zoom zoom driving fun."
Two engines are available, a 2.0-litre SKYACTIV petrol with 165 bhp, and a 2.2-litre diesel SKYACTIV with 150 bhp or 175bhp.
All engine variants can come with automatic or manual transmissions, as well as two wheel-drive or four-wheel drive.
Prices rise all the way to £28,795 for the top of the range 175 bhp diesel with the highest trim level.
"Thanks to its solid environmental credentials, fun-to-drive performance and attractive pricing, the Mazda CX-5 is expected to have huge customer appeal," said Peter Allibon, sales director for Mazda UK.
"The range of SKYACTIV technologies allows Mazda to build cars that deliver class-leading fuel consumption and CO2 emissions, without the price premium charged by other brands for hybrids and electric vehicles."