Stories Published on December 20th, 2011 | by Seán Ward
0
Donkervoort D8 GTO Unveiled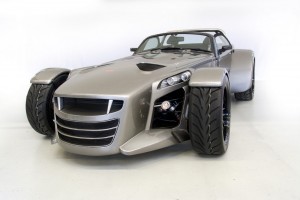 Donkervoort has revealed its latest track focussed car: the D8 GTO.
Built in part collaboration with Audi Quattro GmbH, the open top, two-seater is the largest Donkervoort to go on sale – a full 35 cm longer and 15 cm wider than its predecessor, the D8 270RS.
It has a five-cylinder, 2.5 litre TFSI Audi engine which produces 400 bhp and 450 Nm of torque from around 1600 rpm, and the whole car weighs less than 700 kg.
At a private preview for Donkervoort Ambassadors, 25 GTOs were sold within just a few hours.
"The first in a new generation of Donkervoort automobiles," said Joop Donkervoort, manager of the company. "This is why we put the chassis number back to '0', starting with the new GTO."
The first 25 GTOs are equipped with a 2.5 TFSI motor, which is 30 kg lighter than the standard Audi variant.
"The weight savings are obtained by redesigning several accessory parts of the engine together with the Audi technicians. For example, a new intake manifold was developed.
"The dashboard in this design of the GTO is equipped with a special race module switch, which can increase the capacity from 340 to 400 HP at once. Connected to this is another Donkervoort novelty: the first car from Lelystad that has 'traction control' on board, only for when it is raining, of course."
The car is based on a super light steel tubular frame, with all the carbon-composite body panels fixed on.
Donkervoort is particularly proud of the doors: they are on piece doors with integrated hinges, which can withstand sideways blows of over 1500 kg. The hinges themselves, despite weighing less than a kilo can take the strain of 1100 kg.
Production starts in 2012, and delivery of the first few with the specially designed engine will be delivered in the summer, and the following cars to be delivered in 2013. Prices can be anywhere between €100,000 and €150,000, pre-tax.
[portfolio_slideshow]