Stories Published on December 6th, 2011 | by Seán Ward
0
Double Honours for Fisker at Top Gear Awards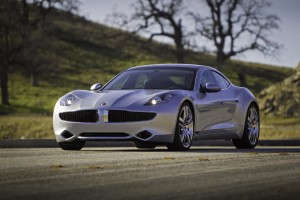 Fisker has landed itself with double honours in the 2011 Top Gear Awards.
Not only was the Karma named 'Luxury Car of the Year' by BBC Top Gear magazine, but also 'Car of the Year' by presenter, James May.
Charlie Turner, BBC Top Gear magazine editor "It works well, it looks good and it must be a genuinely exciting thing to own.
"It's the top-of-the-line spec that features no leather, just textiles and reclaimed wood.  And it's more convincing than it sounds, managing to look, feel and smell premium without any cow peel in it at all."
The Karma is Fisker's first ever production car since Fisker's birth in 2007 by Henrik Fisker and Bernhard Koehler.
"It is fantastic news that the Karma has won two awards from Top Gear," said Henrik. "We realize that we are at the beginning of our journey and awards like this remind us we are on the right road – building enticing green cars that people actually want to own.  It's particularly pleasing that this award recognizes the Karma's luxuriousness."
"We're big fans of both the Top Gear show and magazine – it's great to see motoring entertainment consumed by millions.  The fact that Fisker cars appeal to the Top Gear audience inspires us to continue producing cutting-edge luxury vehicles with extended range, including our new mid-sized sedan that will be built in Delaware, USA."