Motor Shows Published on January 3rd, 2012 | by Seán Ward
0
Drive a Rally Car at Race Retro 2012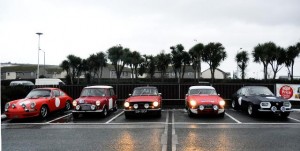 As part of Race Retro 2012, visitors are being given the chance to drive an historic rally car of their choice.
This rare opportunity is being offered by the Historic Endurance Rallying Organisation, who will present on all three days of the event between the 24th and 26th of February.
The course, although smaller than the actual courses the cars would have once competed on, is purpose built and has been designed for talentless drivers to look good, and for good drivers to show off their talent.
Driving a car costs £20, which isn't a lot when you consider the fact you can get behind the wheel of classic Porsche 911 rally car and a Mini Cooper S which turned a wheel at Monte Carlo.
Also at the show will be an ultra low-drag Jaguar E-Type Lindner Nocker built in 1964.
Race Retro will be held at Stoneleigh Park, Warwickshire, and gates will be open between 9:30 to 4:30, with tickets available for £20 pre-booked, and £25 on the day.