Press Conference Q&A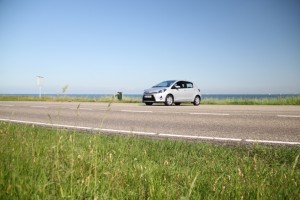 Q: Judging how successful the Prius has been, were you not tempted to brand this car as a Prius-ette? Would there not have been bonuses in stressing the Prius brand?
A: (Jon Williams) In the USA, their compact Hybrid is the Prius C – an extension of the Prius brand into a smaller segment with unique body styling. When we looked at that, this was one of the options, but we really want to try to make hybrid a powertrain option on our small locally built cars. And I think it's important for us that this car is built locally, as it gets round lots of the exchange rate problems we have and it speeds up the time to market.
Q: How many people buy a hybrid come back for a second one?
A: (Jon Williams) On Prius, we know the return rate is around 60%, but this should be higher once we have more hybrids spanning across different segments.
Q: Could hybrid technology filter down to an iQ sized vehicle?
A: (Nik Pearson, Press Relations Manager) Yes it's feasible – If you look at the FT-Bh concept car from Geneva, that was a two-cylinder hybrid car. That powertrain itself is not just being developed just as a demonstration; it is something that could be used in the future, either in a downsized powertrain in an existing car like the Yaris, or even a smaller product.
Q: The packaging in the Auris is quite compromised in the boot. Would any of the lessons you've learned in developing this car be fed back into the Auris, either in this generation or the next?
A: (Jon Williams) Hybrid was engineered into Auris half way through its life cycle, which is an incredible achievement. Yaris Hybrid was conceived as part of the overall project.
(Hirofumi Yamamoto) I've had good feedback from the experience with the Auris, and now with Yaris we have learned to make smaller components, and have also developed new technology.
Q: How important is this model for Toyota Worldwide?
A: (Jon Williams) This is a key European initiative. This car will be sold in Europe, it's manufactured in Europe, because recently we've talked about a situation where we have more regional autonomy. This is an example of what we can do in Europe – this is significant for Europe, and showing that hybrid technology is not just something that comes out of Japan.