Press Conference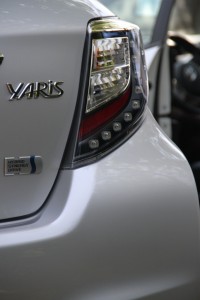 A few key quotes from the Toyota Yaris Hybrid launch press conference.
Jon Williams, Managing Director, Toyota GB
"Eight months ago we launched the new generation of our highest selling European car: the new Toyota Yaris. Now we are launching the flagship of line up: the new Yaris Hybrid. The addition of Hybrid Synergy Drive technology makes Yaris unique – it's the only car in the B Segment to offer three different types of powertrain: petrol, diesel, and now full hybrid technology.
"People chose their cars based on a range of factors. And in this segment, running costs is one of the most important. Another major consideration is CO2 based taxation. We had no crystal ball back at the birth of our hybrid system, but we could see how fuel economy and low emissions were becoming more and more important. The world and our industry was changing, and it continues to change. That's why Toyota is committed to launching more vehicles featuring full hybrid technology in the coming years and months.
"We set out to lead the industry in this area, and with this year's arrivals we will have five full hybrid models in the Toyota range by this summer.
"Even before the launch of Yaris Hybrid, we have seen the positive effect this expansion of full hybrid has had on our average CO2 emissions.
"Our green credentials come with years of consistent commitment. Starting from 1997, TMC has now sold over 4 million full hybrid vehicles, including over  400,000 here in Europe. And this year around 15% of the cars Toyota has sold globally are full hybrid powered.
"Yaris hybrid extends out third generation Yaris offer, helping us to maintain that spirit of innovation that Yaris has become well known for, by bringing full hybrid technology to the b segment for the first time. The addition of this technology to Yaris established strengths creates a unique and powerful proposition."
Hirofumi Yamamoto, Toyota Yaris Hybrid Chief Engineer
"When I look at the journey we took with the Yaris Hybrid, I remember one challenge above all others. Our goal, was the use of a full hybrid powertrain, but with no compromise to the Yaris' traditional principle: small outside, big inside. Achieving this successfully was my proudest moment.
"We set out to simply create the ultimate city vehicle. It should have compact dimensions, but a roomy interior and no compromise on luggage space.
"It should be agile, responsive and easy to drive through busy traffic, and it should have great fuel economy and the lowest possible emissions.
"The solution came through placing the full hybrid system into Yaris. Being a full hybrid, it's able to drive in electric mode alone, thereby minimising emissions and maximising fuel economy. An electric motor supports urban agility through responsive acceleration – all this with no compromise on the existing Yaris strengths or space efficiency.
"We also wanted to make the design more aspirational whilst incorporating the new Toyota design direction."
Jon Williams, Managing Director, Toyota GB
"I think you'll agree that there are some incredible engineering innovations in the powertrain for this vehicle to fit it in to what is the standard Yaris package, yet still retain the same packaging for the occupants and luggage in the vehicle – I think it's an incredible achievement.
"By using a downsized powertrain, we've created a vehicle that doesn't compromise on power to deliver class leading emissions and great fuel economy.
"Yaris hybrid has a unique and leading position when measure against its competitors. Yaris Hybrid performs well thanks to the intelligence of its full hybrid system that switches the petrol engine off much more frequently than you might expect.
"One of our priorities was to create an agile urban vehicle perfect for the city. With a low centre of gravity, improved low speed acceleration and minimal weight increase we believe we've succeeded.
"Yaris hybrid has three distinct advantages to the customer. Firstly, the improved exterior design. Secondly, the ingenious packaging, with no compromise versus the conventional Yaris, an area that is already seen as a strong point for the car. And thirdly, the benefits of full hybrid technology, benefits that are particularly good in city driving – the urban environment.
"One of the things that you should have picked up on today was the sophistication – what we call the new driving pleasure – for the city with this car, when you come to the lights and it's just quite. It gives you a kind of serenity within the city.
"Our range begins with the entry point, the T3, at £14,995 for the five door, as this vehicle only comes in a five door. Giving us a strong price point to go to market, the specification gives good value, and features all of the safety equipment you've come to expect in Yaris, including traction control, VSC, and seven airbags. It isn't short of comfort features either, with dual-zone air conditioning and an automatic transmission as standard. Every Yaris Hybrid comes with an automatic transmission, which is about a £1,200 optional extra in this segment.
"We believe the main seller of the range will be the T4, at £15,895. This adds more specification to the car, with Toyota Touch System, rear-view camera, Bluetooth and USB, and 15 inch alloys as standard.
"T Spirit tops the range at £16,995. This adds further to the T4 proposition, with electric seats, 16 inch alloys, cruise control, smart start and entry, and other convenience options. We know this highly specified vehicle will be highly appealing to our existing Toyota loyalists.
"Around 70% of Toyota customers buy their Yaris on our Access Toyota trade cycle. At £199 per month with a 23% deposit on the T4, this makes hybrid technology extremely affordable. The payment point on the entry grade and the middle grade is the same, at £199 per month. That's because the specification, which residualises very well in the higher grade, gets a slightly higher residual value, hence the equivalent monthly payment.
"This strong specification story gives the Yaris Hybrid many advantages over its main B segment competitors – up to £1,300 of additional equipment versus some of our market leading competitors.
"Despite having high levels of specification, our feature model T4 is priced very competitively compared to its main B segment diesel and hybrid competitors, placing Yaris Hybrid very much in the mainstream. And as I said before, being Hybrid technology, let's not forget the automatic transmission is standard on the Yaris Hybrid.
"It's available in eight colours – it comes in one additional colour that is not available on the conventional petrol or diesel Yaris which is our 'Pearl White' paint.
"When you link the cars improved design to its rational characteristic, it all adds up to a great ownership experience. First the running costs are low, with CO2 below 80 g/km. Customers can expect great vehicle tax savings, with just 10% company car tax, and free road fund licence, with an economy of up to 80 mpg, and an improved pump price of petrol over diesel the fuel costs savings can be considerable. And this car is exempt from the London Congestion charge.
"Low service and maintenance costs make the car more appealing, with no clutch, starter motor, alternator, or timing valve, there are less consumable parts and smaller bills during the life of the vehicle. This is counter intuitive to a lot of customers, who expect more complex technology, but actually because of that the cost of ownership is actually lower, and hybrid powertrain efficiency puts less wear through on brake pads and disks, as the electric motor acts as an engine brake, providing up to a half of all braking requirements. Tyre wear is also reduced due to the better front-rear weight distribution, and even torque application through the driven wheels.
"All these elements drive the cost of ownership down even further. We estimate a Yaris Hybrid will save around 12% versus a conventional Yaris 1.33 petrol over 60,000 miles.
"We're also proud that Yaris Hybrid has the highest percentage residual value in its class, set by CAP, when compared to eco diesels or competitor hybrids, creating a compelling cost of ownership story for Yaris Hybrid.
"Who do we expect to buy the car? Yaris Hybrid gives us an opportunity to move people's perceptions of hybrid from green and rational to something that will appeal to a mass audience as the most accessible hybrid. At the same time we can take the Yaris to places it's never been before, making it more accessible than it has been in the past.
"The Yaris' packaging is a strong point; it's an appealing solution for people who previously only had the money to lower specified compact hatchbacks from the lowest specified of the next segment up.
"Our aspirational targets are for men and women in their thirties looking for a car with character that makes a statement about them. We also see this as a car for those with young families, possibly as a second vehicle in the household, particularly obviously living in urban environments. Customers may also be looking for the benefits of low emission, but do not want the compromise of cost that diesels have when it comes to city driving.
"In reality, we also know that a significant proportion of sales will go to the Toyota and Yaris loyalists, a slightly older demographic who buy into the car and the brand because of the high specification levels, build quality, and our excellent levels of customer service.
"We are going to be investing over £3,000,000 to launch Yaris Hybrid in the UK. After a significant investment in conventional Yaris in the last nine months, Yaris Hybrid gives us an opportunity to keep Yaris top of mind with our target customers. The significant enhancement in design will now be at the forefront in our communication together with the benefits of the hybrid technology.
"We'll also leverage Yaris equity and the peace of mind and confidence that comes with our comprehensive warranties: 5 year 100,000 mile warranty on the vehicle, and a further 8 year warranty on the battery. Hybrid is our most reliable powertrain.
"Yaris Hybrid will be positioned as a smart choice – a hybrid in a compact car for the first time.
"From our initial 2012 volume, which is half a year of sales, of around 2,600, our sales ambitions will be close to 6,000 for the first full calendar year, in 2012 Yaris Hybrid will account for 8% of Yaris sales, increasing to around 20% in 2013.
"This is the second hybrid to be built in Europe at our Valenciennes factory in Northern France.
"We will also be introducing our Yaris Addition and Yaris Trend."