Stories Published on April 26th, 2012 | by Seán Ward
0
Eterniti Launches the Artemis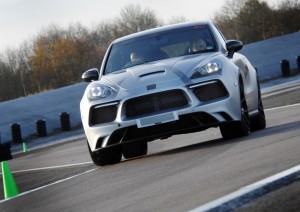 Eterniti has launched the Artemis, supposedly the world's first 'super SUV', and a key model for the new London based car manufacturer if they are to succeed in the semi-mass production of luxury cars.
The Artemis will go on sale in the summer, well ahead of the planned launches for the Bentley EXP 9F SUV and the Lamborghini Urus 4×4.
Included as standard are reclining leather seats, iPad-ready holders with electronic reveal, a drinks chiller, lambswool rugs, and a spacious cabin finished with carbon fibre and wood, all hints that this is a car to be driven in, rather than an exciting car to drive.
Although saying that, the chauffeur will have to be fairly alert – under the bonnet is a 4.8 litre twin-turbo V8 engine 600 bhp and 553 lb-ft of torque. 0-60 mph takes 4.5 seconds and the top speed is more than 180 mph.
More to the point, the car has been set up by Alastair Macqueen, the man who worked on the handling for the Jaguar XJ220, as well as three Le Mans 24 hour winning race cars.
As well as the car, you get a two-year, 100,000 mile warranty, all for a snip over £210,000.
[portfolio_slideshow]