Dad's Day Out 2011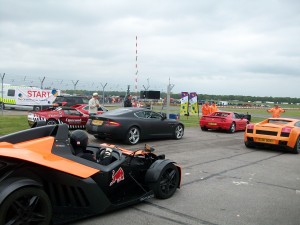 Click here to see images of Dad's Day Out 2011.
Since the first event in May 2009, Dad's Day Out, in aid of the Children's Trust, has grown quickly, thanks, in part, to Club Scuderia and Petrolhead Nirvana, as well as other motoring enthusiasts.
The location has also provided an obvious boost – it's not every day that you get to visit the home of BBC's Top Gear.
As well as the static displays, visitors can also buy tickets for high speed passenger rides around the track, with those willing to pay a bit of extra money able to pick exactly what car they want to ride in, or to ride in a 'Blue Ribbon Supercar'. In the past, 'Blue Ribbon Supercars' have included the Porsche Carrera GT, the Lamborghini LP670-4 SV, the Alfa Romeo 8C, and a modified Aston Martin DB9.
A full list of the Blue Ribbon Supercars, as well as information, images and videos for the event are available on the Children's Trust website.
You can book tickets for the event here: Dad's Day Out Tickets.
And to wet your appetite, below is a video taken from the Top Gear start line… Best to put fingers in ears.