Stories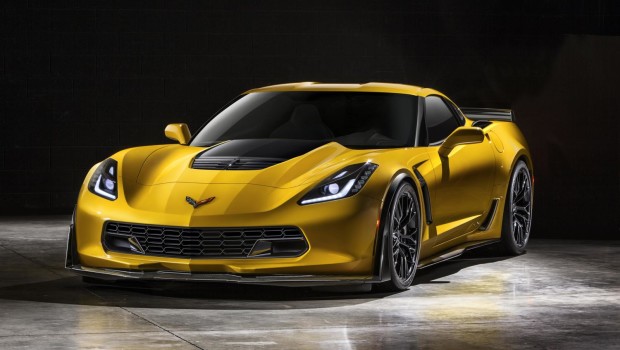 Published on January 26th, 2014 | by Seán Ward
0
Everything You Need to Know About the 2015 Corvette ZO6
There was a lot of misinformation in the run up to the world reveal of the new Corvette (C7) ZO6 – some said it would be naturally aspirated, some supercharged; some said it would have a double clutch, others a seven-speed manual.
So here are the details.
It has a supercharged version of the new LT4 6.2 litre V8 engine, which produces 625 bhp and a colossal 635 lb/ft of torque. To put those figures in perspective, the previous ZO6 had 505 bhp and 470 lb/ft, and the last ZR1, the most extreme factory Corvette ever, had 620 bhp and 650 lb/ft of torque.
Power is sent to the rear wheels via either a seven-speed manual gearbox that's capable of rev-matching gear changes on your behalf, or an optional eight-speed automatic gearbox. The automatic, Corvette says, is "lightening-fast" and has "world-class shift-response times", but there are no quoted shift times and nor are there any real mechanical improvements to the box itself which has been criticised in the standard C7 for overheating and failing when used hard, particularly on track.
Buyers can chose from either a 'standard' ZO6, or opt for the more track orientated ZO7 package (more on what that includes in a moment).
One element of the ZO6 that Corvette particularly wants to highlight is the part downforce plays in the new car's performance. "Practically every exterior change served a functional purpose, as this beast needed more of everything," said Tom Peters, Corvette's design director. "The more aggressive aerodynamic package generates true downforce for more cornering grip and high-speed stability."
Initial changes to the bodywork were made to accommodate the larger tyres as well as control airflow. The tyres measure 1.5 inches wider at the front and 2 inches wider at the rear (Michelin Pilot Super Sports on the ZO6 or Sport Cup 2s with the ZO7 package, sitting on 19 and 20 inch wheels – P285/30ZR19 tyres at the front, 335/25ZR20s at the rear). Following that, the front wing was extended by just over two inches, and the rear by three inches.
On the standard ZO6, Corvette has included the rear wing from the C7 Z51 Performance Package, but for those who really like their downforce Corvette will fit a 'carbon-fibre aero package', which includes a new splitter and an almost vertical rear wing with an adjustable clear plastic element which Corvette claims "delivers the most aerodynamic downforce of any production car that GM has tested".
Braking performance is provided by Brembo, with steel 371mm front disks with six-piston callipers, and 365mm rear disks with four-piston callipers.  Opting for the ZO7 package upgrades the brakes to 394mm and 388mm carbon disks at the front and rear respectively, and also saves 10kg.
The suspension, however, remains mechanically unchanged from the C7, using GM's latest Magnetic Ride Control system.
One final advantage of the revised bodywork is cooling; not only are there more vents and fins to channel air into the engine and brakes, but Corvette say the changes mean that 50% more air reaches the gearbox and electronic differential (something which should help with previous cooling issues seen on the automatic C7).
Inside the car it's more or less business as usual, although there are a few more carbon fibre panels and fixtures, and buyers can specify either the standard 'GT Seat' or a magnesium 'Competition Sport seat'.
What else is there to know? At the moment there are no actual performance figures, but a C7 Stingray can manage 0-60 mph in 3.8 seconds and reach a top speed of 195 mph, so with 40% more power the ZO6 should manage 0-60 in three seconds and a top speed on the sunny side of 200 mph.