German Grand Prix: Free Practice 1 & 2
Weather Returns as Button and Maldonado Lead the Way in Practice
James Charman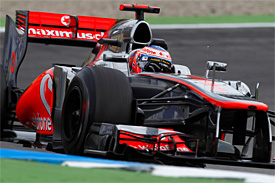 McLaren's Jenson Button and Williams' Pastor Maldonado set fastest times in Free Practice 1 & 2 respectively as rain hit the first day of action at the Hockenheimring.
The rain arrived during the first practice session, with Button managing to set the fastest time in the best conditions, with team-mate Lewis Hamilton in second, 0.498 seconds behind.
This is a promising sign for McLaren, who have added upgrades to the car following a poor start to their 2012 campaign. The package includes modified sidepods and exhaust, along with aerodynamic and mechanical modifications.
Lotus were also testing significant modifications during practice, as they trialled their own version of the 'double DRS' system used by Mercedes since the opening round of the season.
The team are still undecided whether the system will be raced, but if it is will only be on Kimi Raikkonen's car, as there isn't time to install the system on Romain Grosjean's as well.
Only three drivers were caught out by the weather conditions throughout the two sessions, with Williams reserve driver Valtteri Bottas being the first casualty as he lost the rear of the car entering the stadium section at Turn 13.
Toro Rosso's Daniel Ricciardo followed Bottas' lead during the afternoon session as he slid into the gravel, avoiding damage to the car, at Turn 13 again.
Finally, Michael Schumacher lost the rear of his Mercedes at Turn 12, hitting a puddle and spinning across the track before finally resting in the barriers in front of, embarrassingly, the Mercedes grandstand.
All drivers were OK, and when asked for the cause of the accident, Schumacher said "I was not fully concentrated. I was on the radio and I was doing some other changes to the car and touched the white line."
FP1 – Top 10
Jenson Button – McLaren Mercedes 1:16.595
Lewis Hamilton – McLaren Mercedes + 0.498
Fernando Alonso – Ferrari + 0.775
Michael Schumacher – Mercedes + 0.787
Sergio Perez – Sauber-Ferrari + 0.818
Nico Hulkenberg – Force India-Mercedes +1.004
Nico Rosberg – Mercedes +1.320
Felipe Massa – Ferrari +1.400
Pastor Maldonado – Williams-Renault +1.425
Romain Grosjean – Lotus-Renault +1.535
FP2 – Top 10
Pastor Maldonado – Williams-Renault 1:27.476
Nico Rosberg – Mercedes +0.088
Sebastien Vettel – Red Bull-Renault +0.426
Sergio Perez – Sauber-Ferrari +0.926
Romain Grosjean – Lotus-Renault +0.944
Nico Hulkenberg – Force India-Mercedes +1.019
Daniel Ricciardo – Toro Rosso-Ferrari +1.037
Jenson Button – McLaren-Mercedes +1.040
Mark Webber – Red Bull-Renault +1.401

Kimi Raikkonen – Lotus-Renault +1.851