Formula One Published on December 5th, 2012 | by Seán Ward
0
F1 Could Race in Olympic Stadium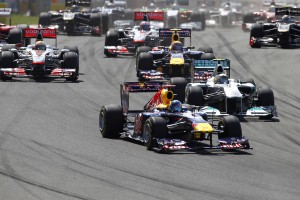 As decision time approaches for the future of the London Olympic Stadium, there's still an outside chance that Formula One could race in the stadium as early as the 2016 season.
London football club West Ham United is still the at the front of the bidding process run by the London Legacy Development Corporation, which also includes University College of Football Business, Leyton Orient Football Club, and the company bidding on behalf of F1 Intelligent Transport Services Limited.
F1 boss Bernie Ecclestone, speaking to the Telegraph, said "They came up with a scheme whereby Formula One would race around it, inside it, outside it. They wanted to make sure I would be interested."
Although there would be major engineering work required for any type of F1 race to take place in London, whether in the stadium or not, Ecclestone confirmed his interest in the bid.
In another interview with Reuters, Ecclestone said that, although ITS Ltd. is bidding without the authority of F1, "if they were to get permission to do it, then we would be more than happy to do something with them."
While Silverstone remains the home of British F1 rounds, there could be an opportunity for two UK races to be held in the same season.
A race in London, Ecclestone says, would take in the major landmarks of the city, including the Houses of Parliament, Big Ben, Trafalgar Square and even The Mall.
But, unfortunately, whether or not the F1 bid will come to anything is unknown. Firstly, Formula One would not purchase the £486 million stadium, but only rent it for the duration of a race weekend, so a new owner would still need to be found.
Also, West Ham, the current bid leader, has said that by taking possession of the stadium, 700 new jobs would be created, local businesses would prosper, and, according to West Ham Chairman David Gold, it would "play a huge part in helping to realise our ambitious vision to move the Club to the next level on behalf of our fantastic and deserving fans".