Jim Clark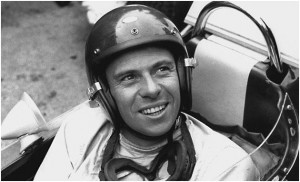 Jim Clark was born in March 1936, in Fife, Scotland.
Competing in hill climb events and other race meets from his late teens, it was a chance meeting with Lotus boss Colin Chapman at Brands Hatch that allowed him to race in one of Lotus' Formula Junior cars.
It was in 1960 that Clark was first seen behind the wheel of a Formula One car, and it was just three years until he won his first world championship title, and then another two until he won his second.
Jim Clark was involved in what is widely regarded as the worst Formula One accident in the sports history, when in the Italian Grand Prix at Monza in 1961, Ferrari driver Wolfgang von Trips hit the back of Clark, sending Trips up into that air, where he then hit a crowd stand. Von Trips, as well as fifteen spectators, were killed.
Clark was killed in April 1968 at Hockenheim when racing a Formula Two car. His Lotus veered off the track and into the trees, breaking Clark's neck.
---