Honda Leads the Hybrid Way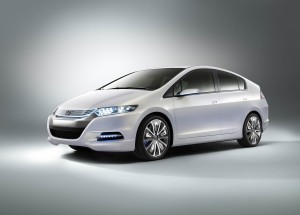 Back in the late 1990s, there were only two major car manufacturers making production hybrid cars. Toyota and Honda were the pioneers of this technology, which has revolutionized the car industry over the last decade.
The Toyota Prius is the most sold hybrid in the world to date, and now nearly every major car maker has at least one hybrid model in its range.
Although Honda may not have sold quite as many Insights, the Japanese manufacturer should receive a great amount of credit for hybrid technology development over the years.
For nearly three decades, the carmaker has led the way in developing the concept of hybrid cars. The latest Honda Insight is the fourth Honda hybrid, and the company recently unveiled its latest concept car – the Honda CR-Z Mugen, a supercharged hybrid.
Hybrid cars have two separate power sources – an internal combustion engine and an electric motor. The electric motor's battery is recharged through a process called regenerative braking – energy from braking is captured and stored in the battery. The electric motor assists the engine through times of acceleration, reducing the strain on the engine, and therefore the amount of fuel burned.
One area where Honda has been a little behind the rest of the hybrid pack is in the introduction of a plug-in hybrid. Honda has plans to introduce its first plug-in hybrid in 2012, and it's likely that it will be an Accord. When the Honda plug-in gets released in Britain, it will add to the range of eco cars UK customers can choose from, and there's a lot of brand loyalty to Honda there.
Chief battery research engineer at Honda, Hirohisa Ogawa, has said that Honda's plug-in hybrid will have an electric-only range of 15 miles. The 6kWh lithium-ion battery will run a 120kW motor and take about two hours to charge.
So what is the future for hybrid cars? Well, many say that they are a way of making money and a way of making people feel like they are helping the environment. Others say that they are the future of the automotive world, albeit with a little refinement. But some say that they are simply bridging the gap between full combustion cars and full electric cars. In that case, we welcome them