Aston Martin Crash at Nürburgring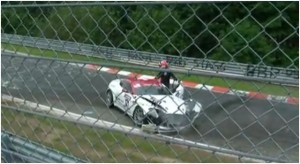 We hear almost every week how another car has broken some sort of lap record at the Nürburgring.
Whether it's in a Ford, Ferrari, golf cart or milk float, you can pay a very small amount of money to drive as quickly as you want.
But, if it is a milk float, the odds are you're going to be inexperienced, and will therefore have an unwanted meeting with the crash barrier.
Although, in reality, it doesn't matter what car you're in – if you overdo things, there are no second chances, even in a decent car.
If you like Aston Martins, please close your eyes. And ears.