Employ an Angry Mob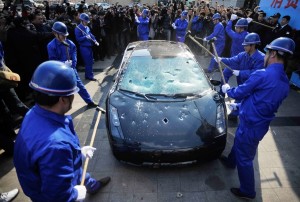 This video is probably one of the most famous motoring videos of 2011.
A beautiful Lamborghini Gallardo is sledge hammered by an angry mod of Chinamen.
It sounds strange, and indeed it is, to any normal car-loving person. But to the owner, it was the obvious thing to do.
The information on the YouTube video states the car failed to start on the 29th November 2010, so the owner had it taken to the Chinese city of Qingdao to be looked at by Lamborghini. They, however, found nothing wrong with it.
Then the owner discovered the car had been damaged on its journey to the dealer, so he decided to contact the head of Lamborghini, Stephan Winklemann, personally to complain.
But when the response was less than adequate, he took matters into his own hands, and on the 15th March 2011, hired a mob to destroy his car on camera.