Ferrari Enzo FXX EDO Atlantic Ocean Crash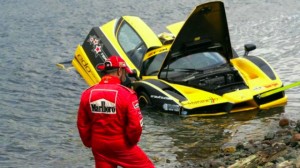 It seems rather appropriate that this week's 'How to Destroy Your Car' is a video shot this very week at the Targa Newfoundland 2011.
Zahir Rana, of ZR Autos, had his Ferrari Enzo modified a few years ago, but more recently has tuned it to be something of a road legal Ferrari FXX.
Tuned by Edo Competition, the car is worth nearly £1,000,000, especially as, on top of the modifications from Edo, it has had the engine from an FXX put in, as well as a couple of turbos.
But, so much power was obviously going to end with a bump of some sort, and unluckily for Zahir, it happened next to a rather big puddle… The Atlantic Ocean.
Still, as he said, "It's only a car".