Overtake in a Lamborghini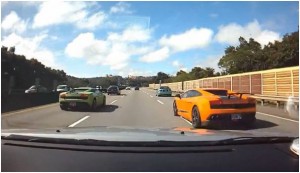 You may have seen this buzzing around the internet recently, so we thought we'd jump on the bandwagon, after all, it is a very impressive sight.
Although something that becomes apparent is that this is not a very impressive example of driving finesse and talent.
While we're sure the fellow driving could be a race-ace, on the motorway he really should have known better.
Watch and learn… What not to do in a Lamborghini Gallardo.